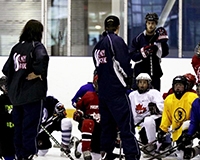 Rep Battle Camp
Dates: July 31st - August 4th
Time: 10:30 a.m. - 12 p.m.
Location: South Courtice Complex
Cost: $399.00
Birth Years: 2013-2012 (AAA-B)
Birth Years: 2011-2009 (AAA-B)
This camp is programmed with high-tempo conditioning and power skating, stickhandling, and battle drills targeted towards players of the Rep levels. Our Battle Camp will focus on both offensive and defensive body positioning, puck protection, and competition in various game-like situations, while simultaneously adding elements of conditioning throughout each session. This is the perfect camp to get back into physical and mental shape for battle and competition, in preparation for the upcoming season. Players will be divided into each end of the ice by age, then grouped according to their ability.