What exactly is power skating???
'Power skating' is a term that is widely used and often misused. Power skating is a component of training skating and developing technique, power and speed for hockey and ringette players.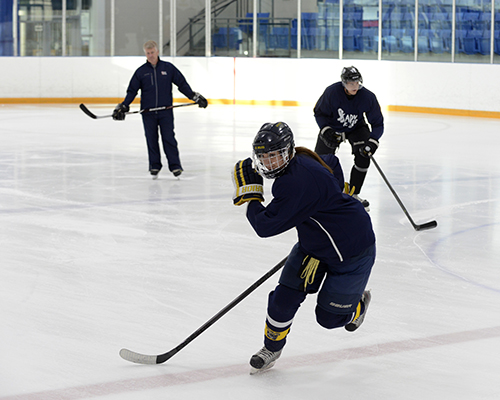 What Is Power Skating?
When I watch "power skating" instructors or coaches running power skating, most times what I witness is a conditioning or bag skate. Yes the players do need to be conditioned, but that alone will not make them good skaters. Most times I show up to run a practice or session and hear parents and coaches say "skate them hard" or "bag them". So if the players come off the ice sweating with their legs burning, they somehow equate that to a great skate. Problem being they did not work on technique and what did they really learn to improve their skating? Nothing is the answer. I have always stressed that if you can't skate you can't play, so power skating has to help you learn how to skate properly not kill you, like in the old days. Players need to slow down to learn how to go fast.
Power skating should be a technical skate focusing on developing power and speed. You need to learn how to skate more efficiently, explosively, powerfully, and be stable on your blades. Educated power skating instructors need to have specifics in order to design a proper power skating program so players get great results. There is a process to learning a skating skill in the game of hockey or ringette.
Learn a skating skill correctly
Then correctly, and powerfully
Then correctly, powerfully, and quickly
Then correctly, powerfully, quickly with the puck/ring
Then correctly, powerfully, quickly with a puck/ring, in a game situation.
It takes many years to become a great skater. You cannot expect to take a power skating session that is 8-10 weeks long or some privates and "bam" you're this great skater. If you stay the course and work with professional power skating instructors that truly understand how to teach proper technique for game situations skating skills, within 8-10 years you will be a great skater. It takes years to master hockey or ringette skating. Don't give up and most importantly try to be work outside you comfort zone.
Until next time Scary Mary says I will see you at the rink…
{gallery}Power Skating{/gallery}