Our Team of Professionals:
Mary Giacalone - Owner / Director of Hockey Operations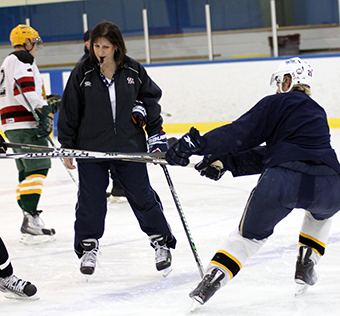 What I Stand For:
Scary skate is a high energy, professional, organized power skating program, with well educated, highly motivating, and knowledgeable instructors.
Our quality instructors make a difference. Our exceptional programs offers the skaters, the most current skating techniques.
We at the scary skate are not only passionate, but are committed to making our programs and players skating centric.
Scary skate instructors, will provide and implement our exceptional programs with the most current technical training, to develop and enhance the way you skate.
Favorite Quote:
To play the game is good, to win the game is better, but to love the game is best

In The Hockey Community:

The Whitby Wolves
The Ajax Knights
Durham West
The Clarington Toros
Pro Vision Sports
Oshawa N.A.S.C.
Hamilton Bulldogs OHL
UOIT Men's & Women's Ridgeback Hockey CIS
Clarington Toros AAA Zone
Clarington Flames
Markham Stouffville Girls
Oshawa Lady Generals HL
Ajax Pickering Ringette
Oshawa Storm Ringette
Whitby Ringette
Twist Sport Conditioning Centre Whitby
Ajax Pickering Raider
Braides with Blades
Wellington Dukes PJHL

In the Media:

Mary Giacalone is a regular contributor on the subject of "Power Skating" in the sportsxpress magazine.
Mary Giacalone was a guest speaker at Durham College with the Sports & Leisure graduating class 2014/2015.
This is Mary's 2nd year with Hockey Canada teaching power skating at the U-18 May Strength and Conditioning camp held in Hamilton Ontario, Canada.
Mary Giacalone is the power skating instructor for the new team the Hamilton Bulldogs in the OHL formerly known as the Belleville Bulls.

Hockey News:

Mary is in charge of writing the lessons plans, staffing, and running all power skating programs for all the male/female hockey organizations as well as the Ringette associations that use Scary Skate services.
Bi-annually Mary runs a national staffing event keeping all her staff up to date with the latest teaching methods. She trains her instructors on the skating treadmills and camps and clinics they participate in.
Mary Is a certified coach mentor in the area of skating through Hockey Canada.

When Not On The Ice:
You will find me preparing amazing dinner's, practicing for Masterchef Canada or gardening outdoors.
---
Justin Caruana - C0-owner /Director of Player Development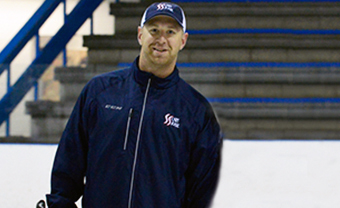 What I Stand For:
Being part of a professional Hockey Team, like Scary Skate, is an honor and privilege.
It is important to me to always adhere to a strict code of ethics and treat each of my students with respect.
As a Coach and Co-Owner it is my intent and will to exercise integrity in the practice of coaching and be honest, fair and respectful of others.
It is my earnest desire to always impart to others I work with a sense of worth and integrity.
Favorite Quote:
It's not about me, it's about about the person next to me.

Playing Experience:

Bowmanville Eagles - OPJHL
Peterborough Petes - OHL
Carleton Ravens - OUA/CIS

Coaching:

UOIT Ridgebacks (M) OUA/CIS
UOIT Ridgebacks (W) OUA/CIS

Experience and Education:
I have been working with Scary Skate since 2011. I am Hockey Canada HP1 certified and have a Bachelor of Arts degree in Geography.

When Not On The Ice:
You might find me Fishing!
---
Jamie Johnson - C0-owner /Director of Skills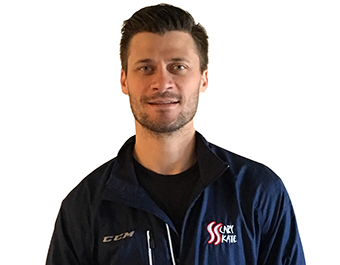 What I Stand For:
Playing hockey at a professional level has not only taught me valuable skills on the ice, but also life skills off the ice.
Hard work, perseverance, and exercising professionalism has helped me achieve my playing goals, contributed to my longevity as a pro-hockey player, and has shaped me into the person I am today. Maintaining this strong work ethic during my pro-career has allowed me to advance and perfect my on-ice skill set and is what I hope to bring to Scary Skate as a Co-owner and Pro-Player. Developing a higher level of on-ice skills for our students will not only encourage hard work and perseverance, but will help guide and pushed them to achieve their very best.
Favorite Quote:
"Don't look back; You're not going that way"

Playing Experience:

Sarnia Sting-OHL
Oshawa Generals-OHL
Louisiana Ice Gators-ECHL
Augusta Lynx-ECHL
Iowa Stars-AHL
Bridgeport SoundTigers-AHL
Albany River Rats-AHL
Rochester Americans-AHL
Grand Rapids Griffins- AHL
Hershey Bears-AHL
TPS-SM Liiga Finland
Dinamo Riga-KHL
Kolner Haie-DEL
Vienna Capitals-EBEL
Herning Blue Fox- Metalligaen Denmark

Experience/Career Highlights:

4 years at OHL level.
100 point season with the Oshawa Generals in 2002/2003.
15 years playing Pro-Hockey.
Scoring leader in the AHL for Albany River Rats, Rochester Americans and Grand Rapids Griffins.
Top five scoring leader in the Danish hockey league in 2016/2017.

When Not On The Ice:
You'll find me playing with my kids.
---